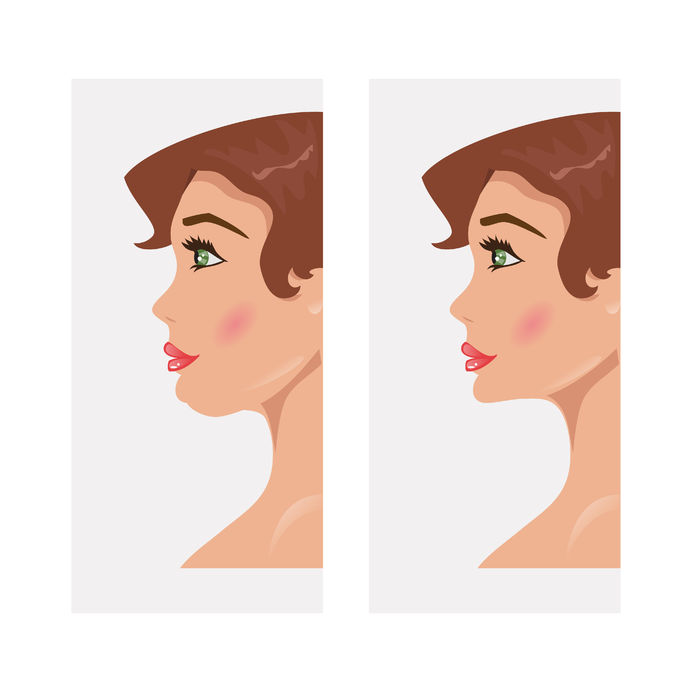 Both Kybella and liposuction are cosmetic treatments used to remove unwanted fat, but they go about the task in different ways.
Liposuction
Liposuction is a from of cosmetic surgery. During liposuction, the plastic surgeon sedates the patient or places them under general anesthesia. They mark the area to be treated, which is most often the patient's thighs, tummy, buttocks, underarms, or in this case, the face, makes a small incision then floods the area with a solution of salt water, lidocaine and a drug that causes the blood vessels to narrow. This makes the area swell and grow rigid while providing pain relief and reducing the amount of bleeding and bruising. The surgeon then pulls out the unwanted fat with a vacuum cannula. Plastic surgeons also use laser or ultrasound to emulsify the fat, and make it easier to remove. Sometimes, the patient's fat can be purified and used in other places, most often the face, that need extra volume.The surgeon closes the incision, covers it with a dressing and fits the patient with a compression bandage that helps them heal. Depending on the extent of the liposuction, the patient can go home after a period of rest or spend the night in the hospital. They'll be able to see the slimmer silhouette imparted by the liposuction after a few weeks.
Kybella
Kybella is interesting in that it has been specifically approved by the FDA to remove what's called a "submental fullness," otherwise known as a double chin. Kybella is a minimally invasive procedure.During a treatment, the dermatologist injects a synthetic type of deoxycholic acid called ATX-101 into the patient's chin. It ruptures the membrane of the fat cells there and makes them release their contents. Over time, the body absorbs the fats. Kybella treatments are outpatient procedures, and the patient can go home soon after they're finished.
With both procedures, the doctor needs to have a consultation with the patient to make sure they're a good candidate. A good candidate for liposuction is in generally good health and is not a smoker. This is also true of the Kybella patient, but the doctor also needs to make sure that the double chin is the result of excess fat and not the sign of a disorder like hyperthyroidism. Both doctors need to be skilled in the procedure to make sure that they do not damage nerves or too many blood vessels.
If you're interested in either Kybella or liposuction, don't hesitate to get in touch with us for a consultation.