Skincare for all ages…
September 2018
As summer is winding down and we want to give you the best possible care for your skin
Fall Special
3 IPL Photofacials for $699 – Regularly $350-400 each
---
The best way to take care of your skin and the skin of those you love!
Life in Southern California is beautiful but it comes with added responsibility for taking care of our skin. Having basic knowledge of what to look for, keeping an eye on our own skin and the skin of our loved ones, and seeing a Board Certified Dermatologist for regular skincare checks can help us all keep our skin healthy.

The American Academy of Dermatology has great resources to teach us how to check our skin and what to look for when checking. They also have great resources for teaching children the importance of protecting their skin.

Click on the link below to learn the AAD's technique for self-skin exams then call our office at 949-248-1632 to schedule your annual skin exam with one of our outstanding staff!


Proper Self-Skin Exam Techniques
---
SEPTEMBER SPECIAL

BUY ANY TWO FILLERS AND GET THE 3RD SYRINGE OF EQUAL OR LESSER VALUE FOR 1/2 OFF!
Introducing Revanesse® Versa™

A brand new multi-purpose hyaluranic dermal filler only $500 per 1ml syringe!
---
Consider Xeomin instead of Botox
Botox or Dysport not working as well as it used to you? You may have developed antibodies!
Xeomin Special
Pay for 25 Units of Xeomin and
receive a $50 Visa Card*
For use toward the purchase of the Xeomin or toward some of our other services or products!
*Limited to one per patient, for the 1st 20 patients only!
Botox Antibodies
---

We are excited about Platelet Rich Fibrins!
What they do & how they help:

Platelet Rich Fibrin (PRF) is an advanced form of PRP (Platelet Rich Plasma) that has long been used in dentistry and orthopedics. Using the patients own blood, PRF is extracted. PRF contains concentrated growth factors and stem cells which promote tissue regeneration and hair growth when applied to or injected in a treatment area. Because PRF is all natural, there is no chance of an adverse allergic reaction to the patient.
Microneedling with PRF
Microneedling on its own can improve multiple skin conditions including laxity and acne scars. When you combine Microneedling with PRF, using your own growth factors you get results in the treatment area that are long lasting.
Regularly $600.00 each for Full Face
Save $300 – $1500 for a package of 3
*Package must be pre-paid
PRF for Thinning Hair/Hair Loss
Three treatments of PRF injections over a three month period.
Regularly $750 to $1200 each
Depending on size of treatment area
Save $750 – ALL 3 Treatments for
$1500 to $2850
Study
---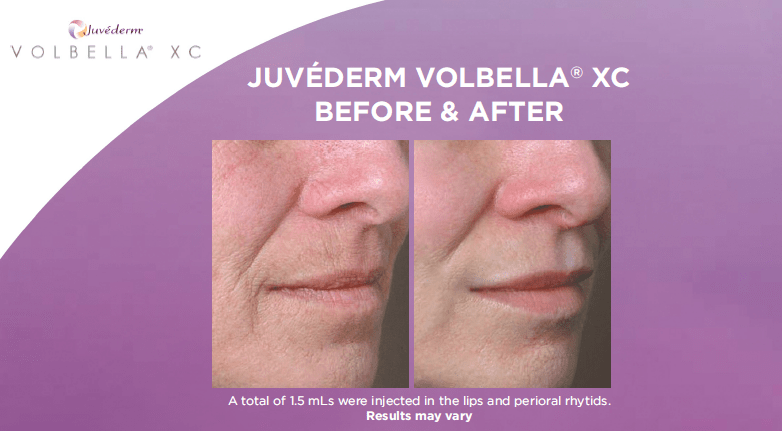 Volbella Special
Fine lines develop around our mouths as we age. Volbella is the perfect product to fill fine lines! Volbella is also a great way to add natural volume to the lips and is so subtle that no one needs to know but you!
1 ml SYRINGE $450.00*
regularly $550.00
*Limited 1 per patient, 1st 20 patients only!