Office Updates….
We are pleased to celebrate nurse Kristie's 22nd year working with us! Kristie assists with Liposuction and Zoster Treatments, orders supplies, and sterilizes instruments for the clinic and operating room. Kristie is also the current President of the Orange County Chapter the Association of Operating Room Nurses. Nurse Michele will celebrate her 28th anniversary at the practice later this month. Michele is one of the original two staff members that worked with Dr. Klein in Irvine prior to 1991. Michele assists in the operating room, performs cosmetic procedures on patients, oversees our AAAHC accreditation and recently became office manager.
Now that the end of year crunch is over, Dr. Klein and Dr. Norma are booking regular appointments out about 2 to 3 weeks, but do try to accommodate emergency appointments within a day or two. Patients needing to be seen sooner or in need of late afternoon appointments can usually get in with Nurse Practitioner Atoussa within a week. Nurse Practitioner JoAnn commutes a couple hours, so limits her appointments to the 1st Friday of the month. Dr. Norma usually performs tumescent liposuction on Thursday and Friday afternoon and Dr. Klein reserves afternoon appointments for large excisions, zoster treatments and tumescent liposuction. Dr. Klein does not usually see patients on Thursday and both Dr. Klein and Dr. Norma continue to perform Mohs skin cancer surgery every other Wednesday. Patients desiring SRT (Superficial Radiation Therapy) skin cancer treatment are seen on Monday and Wednesday mornings.
We continue to offer virtual appointments for patients that can't wait for the next available in-office appointment, can't miss school or work, or simply need to be "seen" prior to getting a refill on medication. Go to our kleinmd.com website and click on "Start an Online Visit" or Click here! You must "register" and pay an $85 office visit fee, but are issued a refund once your insurance benefits are processed. Most Insurance plans cover this service.
Dr. Klein is having great success treating patients with post herpetic neuralgia and acute shingles with ZosterRX. ZosterRx uses tumescent local anesthesia to deliver Acyclovir and other medications directly into the tissues, significantly reducing the pain associated with acute shingles and chronic post herpetic neuralgia. This is very exciting news as many patients continue to suffer after trying numerous other unsuccessful treatments. Spread the news, as over 33% of adults will develop shingles in their life time.
---
NEW YEAR, NEW YOU!!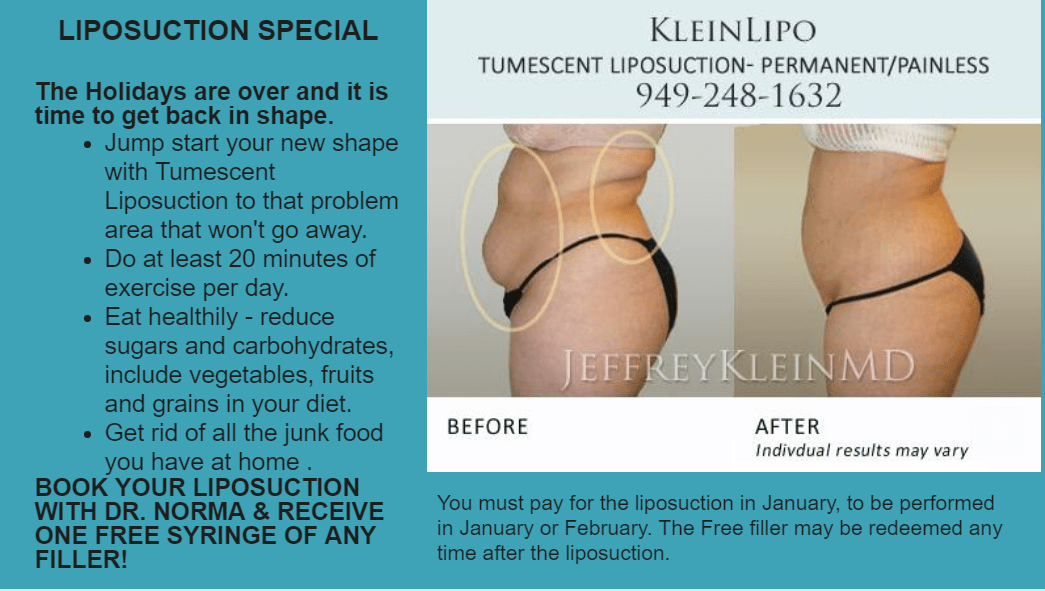 ---

Embarrassed by
Skin Tags?

Remove 10-15 skin
tags during the
month of January for
just $150!
Save $100
Skin tags are not covered by
insurance and are
a self-pay treatment.

INTRODUCING ESKATA

ESKATA is the 1st & only FDA-approved topical
treatment for raised SKs. You didn't choose to get
raised SKs, but you can choose to treat them.
Regularly $350 for one applicator up to 30 lesions.
Introductory Special – We will treat as many as
we can with one applicator for $300!!
ESKATA is not covered by insurance and is
a self-pay treatment.
---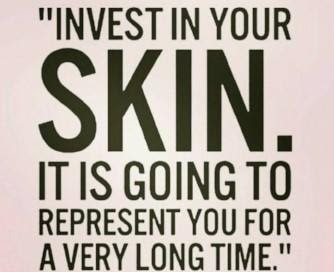 IPL Special
Purchase a package of THREE FACIAL IPLs for $799 –
Receive one treatment of Chest, Neck and Hands for $450!
Save $650!
---

Buy 40 units of Xeomin
but get 50 units!

$12/unit, Save $120!
We specialize in unusual cosmetic
areas, including "smoker's" lines,
drooping eyebrows, dimpled chin,
upside down smile, gummy smile,
bunny lines and neck bands.

Buy 2 syringes of Voluma
for $1750 and get 20 units
of Botox for Free!
Save $550!
Save $550!